Trip Report: Day 4
---
[ Follow Ups ] [ Post Followup ] [ Yellowstone Up Close and Personal Chat Page Version 1.60 ] [ FAQ ]
---
Posted by Rick (71.72.159.41) on 12:56:31 07/09/14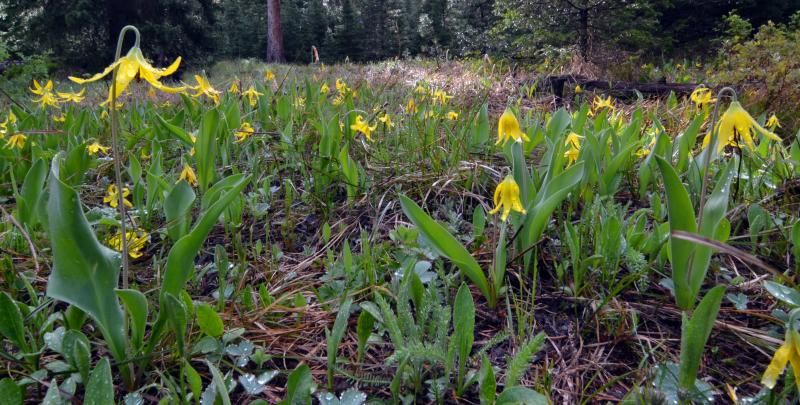 June 16

Again, the plan had been to be up at oh-dark-thirty this morning and spend a few hours exploring and hiking in Hyalite Canyon south of Bozeman. It was an area I'd never visited, and I always try to find something new to experience on each trip to the region. The late night kind of ruled out that early of a start, but when I woke up around 6 or 6:30 I went ahead and got everyone up so we could at least check the place out for a little bit.

We drove through Bozeman, left town, and quickly entered national forest land. The paved road gave way to decent dirt and gravel. Pretty place, with a rushing stream running occasionally along the road, but the low sun was something of an issue on curves.

I had planned to hike to two different waterfalls that were along the same general stretch of road, but given the time constraints now that got cut down to one. I decided to leave the longer (2 and a half to 3 miles round trip) hike to Grotto Falls for another time, and we pulled into parking area for Palisade Falls.

The trail to the falls is only a half-mile each way, but it is steadily uphill--nothing onerous, but enough to get your attention, especially when you've been at altitude for less than a day. Sort of reminded me of the walk up to Trout Lake in length and elevation change, although this trail is paved the whole way. I remember reading that it is technically "wheelchair accessible," but you'd better either have Popeye's forearms, a really strong friend, or a 4-wheel drive motorized chair.

These are some wildflowers along the trail. No idea what they are, but they were cheerful.
---
---
---
[ Follow Ups ] [ Post Followup ] [ Yellowstone Up Close and Personal Chat Page Version 1.60 ] [ FAQ ]