Trip Report: Day 7
---
[ Follow Ups ] [ Post Followup ] [ Yellowstone Up Close and Personal Chat Page Version 1.60 ] [ FAQ ]
---
Posted by Rick (71.72.159.41) on 15:36:36 07/20/14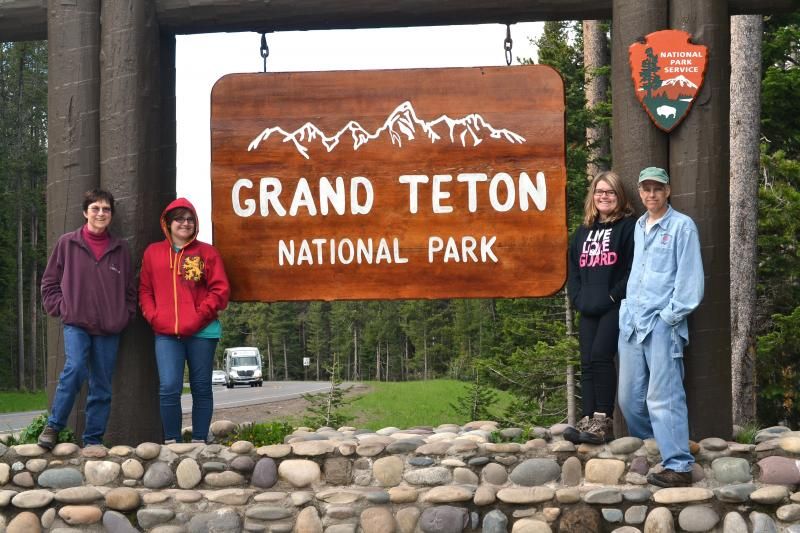 June 19

Naturally, the first day we woke up to no rain, we were leaving Yellowstone--at least for a few days. We were off for a few days in the Tetons, and since the girls were scheduled to go horseback riding there shortly before noon, we needed to leave Gardiner good and early. The road construction at Norris made me decide to take the slightly longer route via Tower and Canyon.

No rain, but still cloudy as we headed east toward Tower. Once we turned south there and started up the slopes of Mt. Washburn, though, things changed. We sort of climbed out of the clouds--sort of. There was plenty of blue sky above, but the cloud itself was sitting smack on the mountain, meaning that we were essentially driving through a brilliant white fog bank. At times we popped out into sunshine with the clouds below us, but most of the time we were driving through a creepy world of phantom trees and extremely limited visibility. An interesting experience, and one the girls especially thought was pretty cool, but a little nerve-wracking from the driver's viewpoint. I've driven through fog in Yellowstone plenty of times before, but never this thick on this particular winding road.

That ended as we left Mt. Washburn behind and passed Canyon (a destination for another day). Still cloudy through Hayden Valley, but with glimpses of blue skies ahead to the south. A welcome sign if it would hold, as we'd had precious little sunshine yet on the trip. Maybe things were looking up.....

Some bison and a few elk in Hayden Valley, but aside from a couple of quick stops for Lissa to shoot a few of them we didn't really make any serious stops, as I was intent on getting down south in time for the horse appointment. We DID stop, however, at the entrance to the Tetons for the mandatory (well, not exactly, since I'll only stop if no one else is there) set of photos at the sign. Here you've got Mom, Autumn, Madeline, and yours truly--Lissa is in some other shots here, but she took this one for me.
---
---
---
[ Follow Ups ] [ Post Followup ] [ Yellowstone Up Close and Personal Chat Page Version 1.60 ] [ FAQ ]